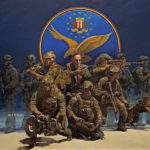 Limited Edition Print, Hostage Rescue Team Painting, To Save Lives
$39.95
Description
Letter of Appreciation
Description
TO SAVE LIVES
This painting, by Jim Dietz, was commissioned by former Hostage Rescue Team member, Scott Warren.  The painting contains five important elements that Scott believes symbolize the HRT.
The blue background is representative of truth and the Federal Bureau of Investigation as a vital component of the law enforcement community.
The blue background fades into a blue mist on the outer sides of the painting.  The blue mist partially conceals and darkens four operators.  Those operators represent the HRT members as they work in the background, for our great nation as quiet professionals.
The American Bald Eagle breaking a chain being held in its talons symbolizes the freedom that the team brings to the citizens it serves.  The HRT Seal is centered in the painting to signify the importance and foundation of the HRT mission… To Save Lives.
The five operators in the forefront embody the HRT in action.  An assaulter with his battle rifle, scanning for threats is ready to advance.  A sniper in a ghillie suit is patiently preparing to deliver a precision shot.  The breacher holding, his cut saw is prepared to move forward to provide an entrance into a crisis site.    Preparing to give vital medical aid, a team medic opens his pack.  A dog handler is restraining his K9 who is eager to be unleashed.
At the heart of the painting, is a "Street Agent" with his 1911 at the high ready position.  The "Street Agent" emphasizes the fact that all members of the FBI's elite HRT are first and foremost FBI agents and law enforcement professionals.  They are privileged to work in a unique role as operators on the United States' only civilian counter terrorism team.
The painting was presented to the HRT upon Scott's retirement.  Scott believes that the core values of the FBI, fidelity, bravery and integrity are the cornerstones that the HRT stands on.  Those core values ensure the HRT's long standing tradition of professionalism, excellence and bravery.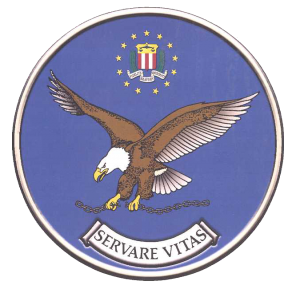 Clearance Sale – Not Returnable or Refundable